Welcome to Hydra Miniatures!
News
___________________________________________
Hydra Miniatures Week-Long Holiday Sale

November 28, 2013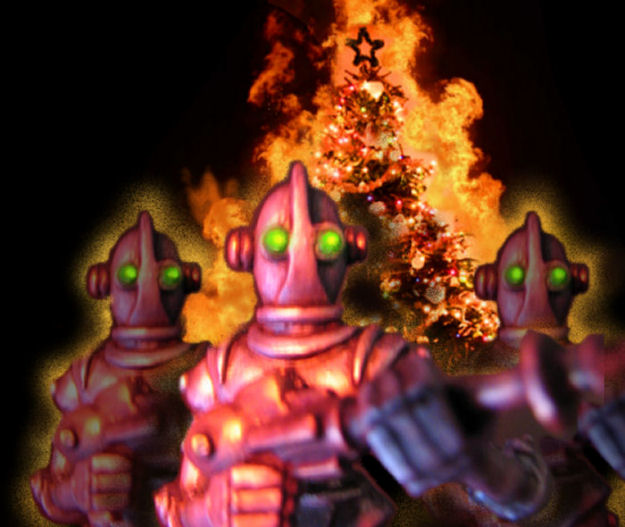 Hydra Miniatures is running its annual Holiday Sale with 25% off all items. The week-long sale will start on Friday, November 29th (Black Friday) at 12:01 am EST and will run until Saturday, December 6th at 12:01 am EST. All items are on sale including our new releases listed below:

Retro Raygun (Galacteers)
Galacteer Engineer
Retro Raygun (Valkeeri)
Princess Alluria
Empress Xenovia
Valkeeri Rocket Sled
Valkeeri Sled Squadron (3 models)
Primal Dawn (Vardu)
Vardu Warrior #1

Holiday sale orders will begin shipping on Tuesday, December 3rd. Hydra Miniatures would like to say thanks for all your support. We hope you have a happy holiday season!
_______________________________________________
Holiday Sale Preview: Valkeeri

November 25, 2013
Greetings Cadets! We are pleased to reveal some previews of the new Valkeeri miniatures that we'll be releasing during our annual week-long Holiday Sale starting this Friday, November 29th. These new Valkeeri are overdue additions to our Retro Raygun range of heroic 28mm (32mm actual sized) retro sci-fi miniatures. The first preview shows our dynamic Valkeeri Rocket Sled model co-designed by Phil Beauchamp (sled model) and John Winter (pilot). The Valkeeri rocket sled hull is cast in resin with metal pilot and sled parts. It is supplied with an acrylic flight rod and base to complete the illusion of flying over your gaming table. The pilot model is multi-part and includes 3 right arm and 3 head options for added variation.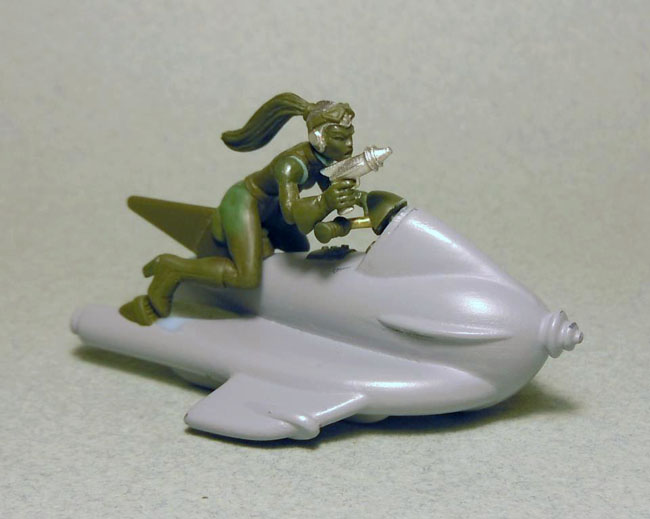 In addition, we are finally releasing the first two Valkeeri noble characters sculpted by John Winter. The Valkeeri Princess (left) is a one-piece casting that exudes sensuality and power befitting of a princess. The Valkeeri Empress (right) is a two-part casting and is in a regal pose with her royal scepter outstretched. Does it shoot a death ray or mind control beams for enslaving men? It's up to you.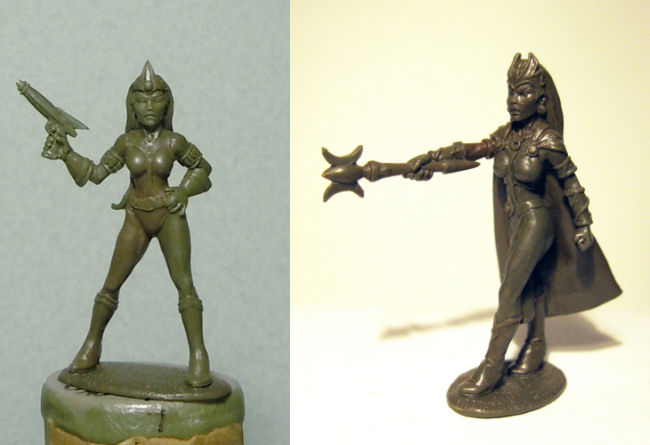 We will also have two additional models for sale as well. The Galacteer Engineer finally makes his debut for Retro Raygun. Add him to your Galacteer squads to repair machines or disable mega-computers. The Vardu Warrior from our Primal Dawn range is a giant flower creature attacking with dried plant weapon. Who says flowers are wimpy?
We hope you like these new releases and look forward to your orders during our Holiday Sale starting this Friday.
_______________________________________________
New Product Spotlight: Xeno 15

Novmber 25, 2012

For the last few months, the staff at Hydra HQ has been infected with the 15mm sci-fi bug. While there are many exciting 15mm sci-fi manufacturers, we've decided to put our own spin on the genre with a comprehensive range of aliens—Xeno 15.
The first releases were sculpted by one of our favorite sculptors: Ben Siens, the "Monster Master." The Akarr are a race of humanoid aliens who were formerly enslaved. After overthrowing their masters, they are now raid human settlements to bring human slaves to their homeworld. Their hunting parties are lead by the largest of their kind--the Akarr overlords.
The warriors of the Akarr are arranged into two types: Stalker squads (long range weaponry) and Razor squads (close combat). Heavy firepower is provided by Inferno squads equipped with particle cannons and heavy meson beamers.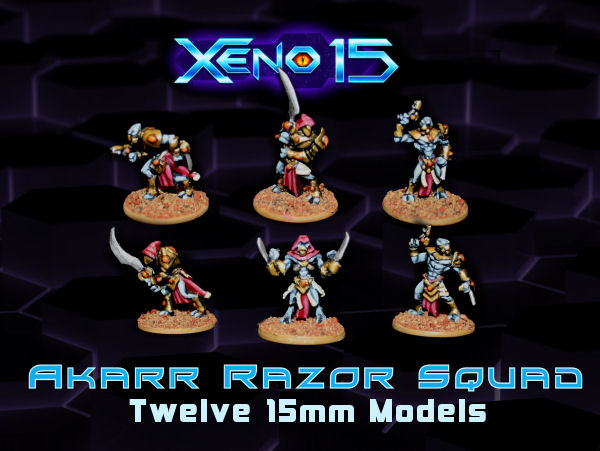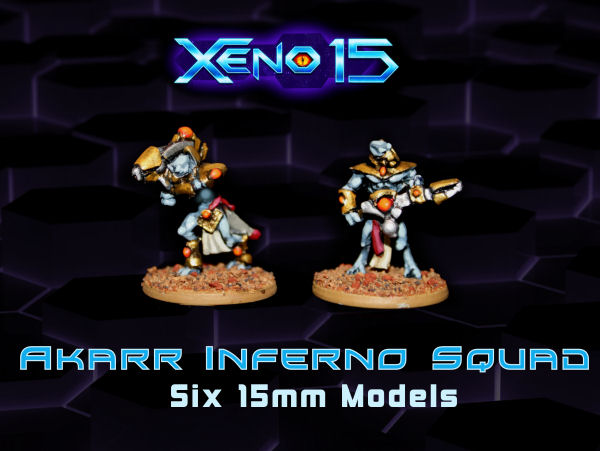 You can see the whole range here. We hope you enjoy our new Akarr models and we are working on vehicles to support the range. We have two other alien races in pre-production and will be assigning these projects to sculptors soon. Stay tuned for more information about Xeno 15.
______________________________________________
Hydra Miniatures Announces Exclusive UK Retailer

February 24, 2012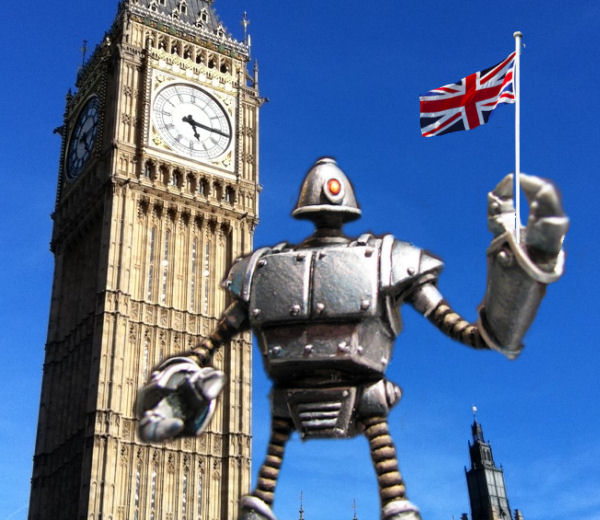 Hydra Miniatures is proud to announce that Wargames Emporium is now our exclusive retailer in the United Kingdom. Wargames Emporium has been a major retailer in the UK gaming scene for over 16 years. They have two stores with the main shop in Sheffield and the other shop in Mansfield.
Wargames Emporium are active convention retailers and will attend 18 wargaming shows in the UK this year. The conventions they attend include 'Salute' which is the biggest UK show as well as 'Claymore', the largest show in Scotland.
Wargames Emporium stocks the entire War Rocket range as well as a large assortment of our Retro Raygun range. Their have an online store at www.wargamesemporium.co.uk and a direct link to Hydra products can be found here.
We are excited to add Wargames Emporium to our worldwide network of retailers which also includes MiniaturicuM in Germany.
---